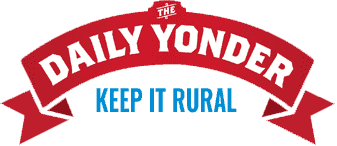 The broad trend is that rural counties are adding cases at a slightly faster rate than urban counties, although the number of rural cases remains only about 6% of the U.S. total.
That's slightly faster than the metropolitan growth rate of about 23%. The growth continues a familiar trend as the rural infection rate inches up relative to the metropolitan rate.
As the rural infection rate climbs relative to the metropolitan rate, rural cases are becoming a slightly larger percentage of the nation's overall Covid-19 cases. On Monday, April 13, rural cases constituted 4.1% of all Covid-19 cases in the U.S. On Sunday, April 19, they were 4.7% The growth is small but steady.
Seventy-nine rural counties had their first case of Covid-19 from April 13 to 19. There are still 410 rural counties, out of about 2,000, that do not have a case of the virus.
Beyond these large trends, the spread of the virus is an ever-growing collection of local events, in most cases unique to specific people and places.
The largest increase in rural cases during the last week occurred in Marion County, Ohio, where an outbreak at a state prison caused the case count to rocket from 91 to 1,743. Marion, with a population of about 65,000, now has the highest number of cases in the state.
In the Midwest, outbreaks seem tied to meat-processing plants. Marshall County, Iowa, the site of a Swift pork plant, saw its cases increase from 37 to 118 last week. Ford County, Kansas, increased from 16 to 127 cases. In Dodge City, the county seat, National Beef closed its plant from April 16 to April 21 to install safety gear and take other measures. Cargill also confirmed cases of coronavirus at its plant.
Parts of Indian Country are being hit hard. McKinley County, New Mexico, added 172 cases of Covid-19 last week, nearly doubling the number it had on April 13. The county's population is 75% Native American and includes parts of the Navajo Nation and Pueblo of Zuni. Arizona counties in the region also saw dramatic increases. Navajo County, Arizona, grew by more than 100 cases to a total of 459, and Apache County, Arizona, doubled its cases, growing from 89 to 178.
The rural South continued to see significant increases, with a band of counties running from East Texas across Louisana, Mississippi, Alabama, southwest Georgia, and the coastal regions of South Carolina and North Carolina.
Moore County in Texas, however, said its nearly five-fold increase in cases came from better means of testing. An Amarillo television station reports that the county has rapid coroavirus test that can return results in 15 minutes.
"Whenever we first got these tests, we brought them here to Moore County, and then we tested them against our own known … positive and negative patients, and we had 100 percent accuracy," Steve Agle, the general surgeon at the local hospital, told KFDA television news. The county judge said Moore County is the only one in the state to use the test and report numbers from them.