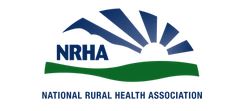 The National Rural Health Association (NRHA) is pleased to announce the final selections for the 2022 class of Rural Health Fellows.  After a competitive review process, 17 fellows were selected to participate in this yearlong, intensive program aimed at developing leaders who can articulate a clear and compelling vision for rural America.
"Rural health care delivery – both inside and outside of rural hospitals and clinics – continues to confront a variety of issues that are unique to rural areas," says NRHA CEO Alan Morgan. "Fortunately, NRHA's Rural Health Fellows program and its graduates are prepared to effectively address these issues and strengthen rural hospitals and health care delivery across the nation by improving the quality and depth of executive leadership."
The 2022 NRHA Rural Health Fellows are:
Leah Bouchard, Virginia Commonwealth University PhD candidate, Richmond, Va.
Jeremy Cannon, Kalkaska Memorial Health Center chief nursing officer, Kalkaska, Mich.
Nicole Carritt, University of Nebraska Medical Center director of rural health initiatives, Omaha, Neb.
Jeanne Edevold Larson, Northern Dental Access Center executive director, Bemidji, Minn.
Isela Garcia, New Mexico State University cancer outreach program manager, Las Cruces, N.M.
Elizabeth Hall-Lipsy, University of Arizona College of Pharmacy assistant professor of practice, Tucson, Ariz.
David Jordan, United Methodist Health Ministry Fund chief executive officer, Hutchinson, Kan.
Alyssa Meller, National Rural Health Resource Center chief operating officer, Duluth, Minn.
Andrea Mitchell, South Carolina Center for Rural and Primary Healthcare program manager, Columbia, S.C.
Quinyatta Mumford, Arkansas Department of Health section chief III, Little Rock, Ark.
Hunter Nostrant, Helen Newberry Joy Hospital chief executive officer, Newberry, Mich.
Victoria Reid, Ellenville Regional Hospital rural health network executive director, Ellenville, N.Y.
Joseph Robare, Slippery Rock University associate professor and MPH program director, Slippery Rock, Pa.
Michael Seward, Docs Who Care director of provider services, Olathe, Kan.
Thad Shunkwiler, Minnesota State University Mankato College of Allied Health and Nursing assistant professor Mankato, Minn.
Sarah Thach, University of North Carolina Gillings School MPH program assistant professor, Asheville, N.C.
Jacy Warrell, Rural Health Association of Tennessee chief executive officer, Decaturville, Tenn.
About NRHA
NRHA is a nonprofit organization working to improve the health and wellbeing of rural Americans and provide leadership on rural health issues through advocacy, communications, education, and research. NRHA's membership is made up of diverse individuals and organizations from across the country, all of whom share the common bond of an interest in rural health.