On March 11, 2020, the Pennsylvania Department of Health morning confirmed three additional presumptive positive case of COVID-19 – two residents from Bucks County and one from Montgomery County. All are adults and in isolation at home. This brings the statewide total to 15 cases; 13 of the cases are presumptive positive and two cases, the Delaware County and Wayne County cases, have been confirmed by the CDC.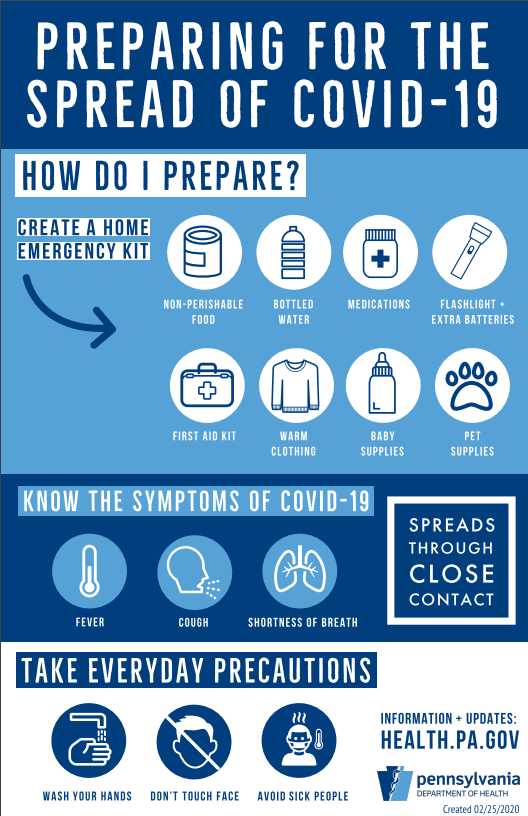 "While we anticipate that there will be more Pennsylvanians with COVID-19 in the coming days and weeks, it is important for residents to know the commonwealth is prepared and to be prepared themselves," Secretary of Health Levine said. "Right now, you have a higher chance of testing positive for COVID-19 if you have traveled to a country or state with known community outbreaks or have come in contact with someone who has the virus. We are working with the health care community across Pennsylvania to keep them informed, consult on patient testing and ensuring they have the resources they need to care for patients."
It is crucial to avoid spreading misinformation. Below are confirmed sources for accurate and factual information and updates.
Pennsylvania Department of Health
The Pennsylvania Department of Health is working diligently to monitor the COVID-19 situation in Pennsylvania and share information. Updates continue to be posted regularly DOH coronavirus webpage.  The Department of Health is beginning daily press briefings on COVID-19 at noon every day. These briefings are livestreamed on PAcast. The link will be the same every day.
Center for Disease Control & Prevention (CDC)
The CDC COVID-19 webpage offers a wealth of information and resources on outbreak in the United States. Information on the disease, situation updates, and specific information for travel and professionals is available and updated as needed.  The Pennsylvania Department of Health works in collaboration with the CDC for factual material.
Ready PA
Ready PA has the information to prepare by learning about:
Different kinds of emergencies
How to create all hazards/emergency plans and kits for your home, vehicle, and workplace
How to plan ahead if you have a special need
The Wolf Administration Preparedness Actions
The World Health Organization first announced the coronavirus outbreak in late January and the Pennsylvania Department of Health has had its Emergency Operations Center set up since February 1. The center allows for a collaborative, concentrated state response, including:
Activated the Department of Health's Emergency Operations Center to allow for enhanced response coordination;
Begun testing for COVID-19 at the state laboratory;
Maintained communication and outreach with federal, state and local partners;
Provided symptom monitoring for residents returning from areas impacted by coronavirus;
Provided health care providers, businesses and education providers with information;
Reviewed and adapted current pandemic flu plans to prepare for spread of COVID-19;
Increased testing capacity;
Partially activated the Commonwealth Response Coordination Center at PEMA.
Governor Tom Wolf signed an emergency disaster declaration March 6 to ensure state agencies involved in the response have the expedited resources they need to continue to focus on the virus and its possible spread.
The Department of Health is providing a daily update via statewide press release.
On March 9, Sec. of Health Dr. Rachel Levine began to provide daily press briefings. 
CDC confirmed two cases, one in Delaware County and one in Wayne County. This means Pennsylvania has 13 presumptive positive cases and two positives.