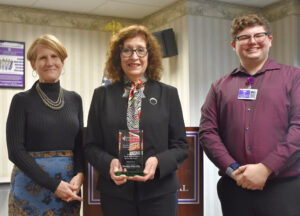 Norma Nocilla, director of clinical operations and quality at Wayne Memorial Community Health Centers (WMCHC), Honesdale, PA, received the 2022 Community Rural Health Leader of the Year Award, presented by the Pennsylvania Office of Rural Health (PORH). The award was presented by Lisa Davis, director of PORH and outreach associate professor of health policy and administration at Penn State during an award ceremony on Nov. 17, 2022, at Wayne Memorial Hospital in Honesdale, PA.
The Community Rural Health Leader of the Year Award recognizes an outstanding leader who organized, led, developed or expanded an exemplary multi-dimensional rural community health program or initiative and who has demonstrated leadership to a rural community health program.
The award was presented during 2022 Rural Health Week in Pennsylvania, Nov. 14-18. The week encompasses Nov. 17, which is National Rural Health Day, established in 2011 by the National Organization of the State Offices of Rural Health. Both events celebrate "The Power of Rural" by honoring rural American residents, health care providers, and communities.
The nomination, submitted by Kyle Davis, outreach and enrollment coordinator at WMCHC, recognized Nocilla for her extensive background in health care leadership, quality, and performance improvement. Nocilla has held various roles that provided her not only with insight into the needs of her community, but state and national issues as well. Nocilla maintained oversight of the clinical integration of four large practice groups across eight sites and 17 providers, earning primary care medical home certification of all sites, which places patients at the center of care and builds meaningful relationships between patients and clinical care teams. She shows concern and recognition for her colleagues and acknowledges the influential role they play in helping WMCHC provide exceptional services to the counties and organizations served by the health center.
Davis stated, "Ms. Nocilla has demonstrated a high level of dedication to bringing high-quality care to our communities. This dedication has been apparent in the achievements outlined above as well as her influence in creating a culture that recognizes and rewards employees for positive patient outcomes while placing an emphasis on learning and designing systems that respond to employees in a fair and just manner."
PORH was formed in 1991 as a joint partnership between the federal government, the Commonwealth of Pennsylvania, and Penn State. The office is one of 50 state offices of rural health in the nation and is charged with being a source of coordination, technical assistance, networking, and partnership development.
PORH provides expertise in the areas of rural health, population health, quality improvement, oral health, and agricultural health and safety. PORH is administratively located in the Department of Health Policy and Administration in the College of Health and Human Development at Penn State University Park.
Each year, PORH presents awards to recognize rural health programs and individuals who have made substantial contributions to rural health in Pennsylvania. To learn more about the Pennsylvania Office of Rural Health, visit porh.psu.edu.