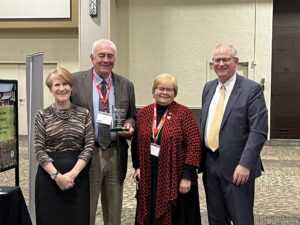 Denny Hutchison, membership chair and past president of the Somerset County Farm Bureau, and member of the Pennsylvania Farm Bureau (PFB) Agricultural Promotion Committee, from Somerset County, PA, received the Rural Health Leader of the Year award, presented by the Pennsylvania Office of Rural Health (PORH). The award was presented by Lisa Davis, director of PORH and outreach associate professor of health policy and administration at Penn State, during a ceremony on Nov. 15, 2022 at the annual PFB meeting, at the Hershey Lodge and Convention Center, Hershey, PA.
The Rural Health Leader of the Year award recognizes an outstanding leader from Pennsylvania for their work and support of rural health initiatives that address an identified need in their district or across the state.
The award was presented during 2022 Rural Health Week in Pennsylvania, Nov. 14-18. The week encompasses Nov. 17, which is National Rural Health Day, established in 2011 by the National Organization of the State Offices of Rural Health. Both events celebrate "The Power of Rural" by honoring rural American residents, health care providers, and communities.
Nominations were submitted by Pennsylvania Secretary of Agriculture Russell Redding; Pastor Nila Cogan of Somerset County; Pennsylvania Rural Development Council Executive Director Mark Critz; James Wyler, from Ambulatory and Community Behavioral Health Network Services at UPMC Western Psychiatric Hospital; and Andrea Brown from UPMC. The nominators recognized Hutchison's superb community outreach and statewide call for support of mental health needs in local agricultural communities.
Hutchison was lauded for his assistance in developing a crisis line and underwriting training that focuses on learning about the stressors in the agricultural community, recognizing and helping someone in crisis, and developing mechanisms to mitigate the stress. During COVID-19, Hutchison raised awareness in the farming community in Somerset County, discussing rural stress and the mental burden on farmers and their families. He reached out to veterinarians, feed and equipment dealers, and others who interact with farmers to alert them to warning signs of stress and depression. He is currently working with the PFB to raise awareness and make treatment more accessible for Pennsylvania's farmers.
Hutchison also serves as treasurer, and executive board member of the Somerset County Chamber of Commerce, as a board member of the United Way of Laurel Highlands, and is a member of the Paint Township Planning Committee. He worked for 37 years as a vocational rehabilitation counselor for the Pennsylvania Office of Vocational Rehabilitation. Hutchison is married to his wife, Lori, and enjoys time with his two daughters and two granddaughters.
PORH was formed in 1991 as a joint partnership between the federal government, the Commonwealth of Pennsylvania, and Penn State. The office is one of 50 state offices of rural health in the nation and is charged with being a source of coordination, technical assistance, networking, and partnership development.
PORH provides expertise in the areas of rural health, population health, quality improvement, oral health, and agricultural health and safety. PORH is administratively located in the Department of Health Policy and Administration in the College of Health and Human Development at Penn State University Park.
Each year, PORH presents awards to recognize rural health programs and individuals who have made substantial contributions to rural health in Pennsylvania. To learn more about the Pennsylvania Office of Rural Health, visit porh.psu.edu.