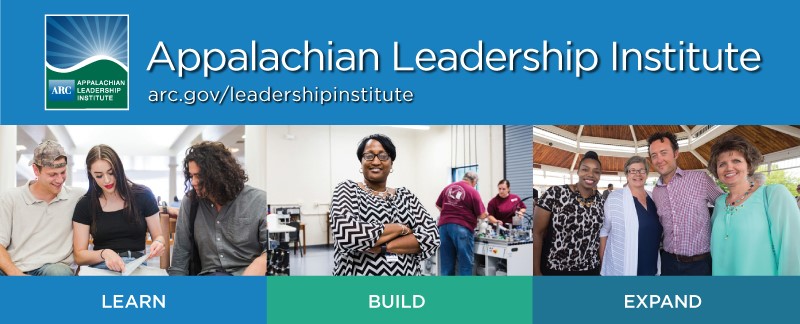 Apply now to become an Appalachian Leadership Institute Fellow!
Applications are now being accepted for the inaugural class of the Appalachian Leadership Institute, a new leadership and economic development training opportunity for community leaders who currently live and/or work in Appalachia. The Appalachian Leadership Institute is an extensive nine-month program running from October–July and includes skill-building seminars, best practice reviews, and field visits during six separate sessions across the Region to be followed by a capstone graduation event held in Washington, D.C.
As part of the Appalachian Leadership Institute, participating Fellows will learn how to:
Design effective economic development project proposals;
Integrate community assets into long-lasting economic development strategies;
Identify resources available to spur economic development;
Locate and access investment capital from a variety of public and private sources;
Prepare competitive applications for public grant opportunities;
Use expanded leadership skills to create strong coalitions; and much more!
Upon completion of the program, Appalachian Leadership Institute Fellows will automatically become part of the Appalachian Leadership Institute Network, a peer-to-peer working group committed to Appalachia's future.
The Appalachian Leadership Institute is limited to 40 Fellows annually, drawn from Appalachia's public, private and non-profit sectors. Fellows are chosen via a competitive application process and each class will include representatives from each of the thirteen state in the ARC footprint to reflect the region's diverse economic development challenges, opportunities, and strategies. Apply now!
The Appalachian Leadership Institute is an advanced community capacity leadership training program developed by the Appalachian Regional Commission in partnership with the University of Tennessee, Knoxville; The Howard H. Baker Center for Public Policy; Tuskegee University; and Collective Impact.
More information about the Appalachian Leadership Institute is available at www.arc.gov/leadershipinstitute