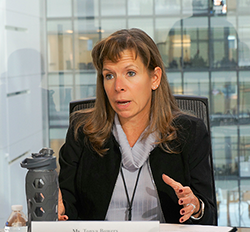 Tonya Bowers, Deputy Associate Administrator of the Bureau of Primary Health Care, told French health officials last month that the U.S. health center population has more than doubled to 28.4 million people since the administration of  President George W. Bush, and the number of health center locations has more than tripled  to some 12,000.
But despite strong bipartisan support for the program and an overall growth rate of 176 percent since 2001, health services in U.S. rural areas remain "fragile." And demand for new health center clinics is overwhelming.
"We always get more applications than we can fund," Bowers told Celine Jaeggy of the French embassy's office of Labor, Health and Social Welfare, which requested the meeting with HRSA staff. Bowers noted that only one of about every six proposals for 500 new health center sites got agency financing in a recent grant competition.
The pent up demand, experts say, is an increasingly familiar phenomenon worldwide.