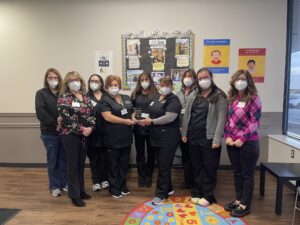 Family Health Council of Central Pennsylvania (FHCCP) and the organization's Women, Infant, and Children (WIC) Tapestry of Health SUN Smiles program received the Rural Health Program of the Year award, presented by the Pennsylvania Office of Rural Health (PORH). The award was presented by Lisa Davis, director and outreach associate professor of health policy and administration at Penn State, on Nov. 17 at a ceremony at the WIC Tapestry of Health clinic in Shamokin Dam, PA.
The Rural Health Program of the Year Award recognizes an exemplary health program that addresses an identified need in a rural community utilizing unique, creative, and innovative approaches to do so.
The award was presented during 2022 Rural Health Week in Pennsylvania, Nov. 14-18. The week encompasses Nov. 17, which is National Rural Health Day, established in 2011 by the National Organization of the State Offices of Rural Health. Both events celebrate "The Power of Rural" by honoring rural American residents, health care providers, and communities.
The nomination, submitted by Karen McCraw, vice president of advocacy and development at Family Health Council of Central Pennsylvania (FHCCP) in Camp Hill, PA, lauded SUN Smiles for developing a comprehensive program that formed partnerships between FHCCP, Central Susquehanna Opportunities, Snyder-Union Community Action Agency, and the Susquehanna River Valley Dental Health Clinic. The program was created to improve oral health outcomes for economically marginalized clients of the Special Supplemental Nutrition Program for WIC clients in Snyder, Union, and Northumberland counties.
The goals of SUN Smiles are to reduce the proportion of adults and children with untreated tooth decay; increase the proportion of children, adolescents, and adults who use the oral health care system; increase the proportion of people with dental insurance; and reduce the proportion of persons who are unable to obtain or delay obtaining necessary dental care. The program also aims to reduce the proportion of children ages one to five who report dental problems, reduce oral health disparities among low-income rural clients, and give every adult and child in WIC the chance to have a healthy smile. All pregnant and postpartum women and children who are clients of WIC are routinely screened for dental needs and referred to Community Health Workers (CHW), as needed, for assistance with Medicaid enrollment, appointment scheduling, transportation, payment for services, and more.
In the first 11 months of the program, SUN Smiles screened 2,028 WIC clients and referred 700 clients to CHWs and 400 clients to dental care; 154 program clients received dental services at FHCCP's partner dental provider site. In addition to care navigation, oral health education and fluoride varnish days at WIC offices are key elements of the program.
PORH was formed in 1991 as a joint partnership between the federal government, the Commonwealth of Pennsylvania, and Penn State. The office is one of 50 state offices of rural health in the nation and is charged with being a source of coordination, technical assistance, networking, and partnership development.
PORH provides expertise in the areas of rural health, population health, quality improvement, oral health, and agricultural health and safety. PORH is administratively located in the Department of Health Policy and Administration in the College of Health and Human Development at Penn State University Park.
Each year, PORH presents awards to recognize rural health programs and individuals who have made substantial contributions to rural health in Pennsylvania. To learn more about the Pennsylvania Office of Rural Health, visit porh.psu.edu.