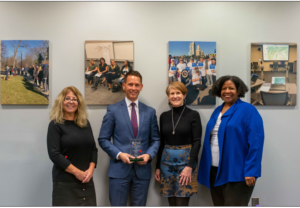 Glenn Sterner, Ph.D., assistant professor criminal justice at Penn State Abington, received the Rural Health Hero of the Year Award, presented by the Pennsylvania Office of Rural Health (PORH). The award was presented by Lisa Davis, director of PORH and outreach associate professor of health policy and administration at Penn State on Nov. 14, 2022 during a ceremony at Penn State Abington in Abington, PA.
The award was presented during 2022 Rural Health Week in Pennsylvania, Nov. 14-18. The week encompasses Nov. 17, which is National Rural Health Day, established in 2011 by the National Organization of the State Offices of Rural Health. Both events celebrate "The Power of Rural" by honoring rural American residents, health care providers, and communities.
The Rural Health Hero of the Year award recognizes an outstanding leader who demonstrates a personal and professional commitment to the rural health needs of their community, works with relevant organizations to develop or expand a program that addresses an identified need, and goes above and beyond the call of duty.
The nomination, submitted by Danielle Rhubart, Ph.D. assistant professor of biobehavioral health at Penn State University Park, lauded Sterner for his leadership and coordination between organizations across the state. In addition to being a champion and advocate for rural communities, his work on substance use, human trafficking, and various health conditions have had meaningful impacts on rural residents of Pennsylvania. He uses an innovative approach to address multiple issues, secure funding, and has worked in partnership with state and local law enforcement agencies to deploy resources. Sterner is an influential advocate in multiple areas and consistently demonstrates his recognition of rural health issues across Pennsylvania.
In his current work, he is evaluating the impact of opioid settlement funding in Pennsylvania, with an emphasis on long-term stakeholder engagement for maximizing the impact of opioid settlement funding in Pennsylvania's communities. He founded the non-profit organization "Regional Interdisciplinary Collaborative Working to Address Human Trafficking." He also serves on an interdisciplinary team to increase access to prevention programming in rural counties through the Penn State PROmoting School-community-university Partnerships to Enhance Resilience (PROSPER) program, emphasizing connections between prevention and supply reduction initiatives in communities. Sterner developed the Story Powered Initiative to address stigma in communities for conditions that are discriminated against, including substance use, human trafficking, hepatitis C, and HIV/AIDS.
PORH was formed in 1991 as a joint partnership between the federal government, the Commonwealth of Pennsylvania, and Penn State. The office is one of 50 state offices of rural health in the nation and is charged with being a source of coordination, technical assistance, networking, and partnership development.
PORH provides expertise in the areas of rural health, population health, quality improvement, oral health, and agricultural health and safety. PORH is administratively located in the Department of Health Policy and Administration in the College of Health and Human Development at Penn State University Park.
Each year, PORH presents awards to recognize rural health programs and individuals who have made substantial contributions to rural health in Pennsylvania. To learn more about the Pennsylvania Office of Rural Health, visit porh.psu.edu.