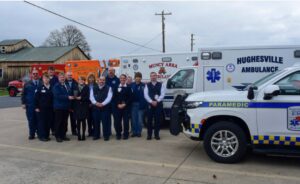 The East Lycoming Ambulance Association (ELAA), Hughesville, PA, received the Rural Health Program of the Year award, presented by the Pennsylvania Office of Rural Health (PORH). The award was presented by Lisa Davis, director of PORH and outreach associate professor of health policy and administration at Penn State, on Nov. 17 at the ELAA headquarters in Hughesville.
The Rural Health Program of the Year Award recognizes an exemplary health program that addresses an identified need in a rural community by utilizing unique, creative, and innovative approaches to do so.
The award was presented during 2022 Rural Health Week in Pennsylvania, Nov. 14-18. The week encompasses Nov. 17, which is National Rural Health Day, established in 2011 by the National Organization of the State Offices of Rural Health. Both events celebrate "The Power of Rural" by honoring rural American residents, health care providers, and communities.
The nomination, submitted by Joshua Dorman, ambulance captain at the Hughesville Volunteer Fire Department, Hughesville, PA, recognized the 20-year cooperative effort between four volunteer fire departments, Hughesville Volunteer Fire Company, Muncy Area Volunteer Fire Company, Picture Rocks Volunteer Fire Company, and Muncy Township Volunteer Fire Company. The association is completely self-funded by these fire companies which underwrite Emergency Medical Technicians (EMT) wages and provide the necessary equipment and facility to provide emergency services in rural Pennsylvania.
The fire companies staff a Basic Life Support ambulance seven days a week which is responsible for covering 911 emergency medical calls and vehicle accidents for 10 municipalities in rural Pennsylvania. Throughout the COVID-19 pandemic, this collaboration has been critical for the area due to the significant increase in emergency calls. Without these companies providing these essential services, many of those calls would go unanswered.
PORH was formed in 1991 as a joint partnership between the federal government, the Commonwealth of Pennsylvania, and Penn State. The office is one of 50 s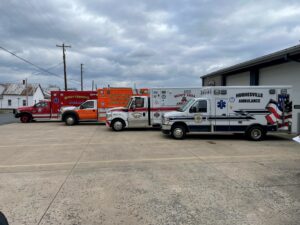 tate offices of rural health in the nation and is charged with being a source of coordination, technical assistance, networking, and partnership development.
PORH provides expertise in the areas of rural health, population health, quality improvement, oral health, and agricultural health and safety. PORH is administratively located in the Department of Health Policy and Administration in the College of Health and Human Development at Penn State University Park.
Each year, PORH presents awards to recognize rural health programs and individuals who have made substantial contributions to rural health in Pennsylvania. To learn more about the Pennsylvania Office of Rural Health, visit porh.psu.edu.