Amanda Holpuch, The Guardian
Exclusive research shows drop in connectivity is impacting rural and urban areas with populations already underserved by the medical system or racked with poverty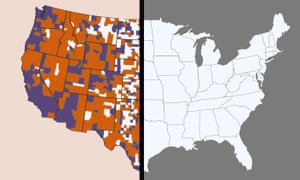 The Covid-19 crisis is exposing how the cracks in the US's creaking digital infrastructure are potentially putting lives at risk, exclusive research shows.
With most of the country on lockdown and millions relying on the internet for work, healthcare, education and shopping, research by M-Lab, an open source project which monitors global internet performance, showed that internet service slowed across the country after the lockdowns.
"This is going to kill people," said Sascha Meinrath, co-founder of M-Lab.
In late March, most people in 62% of counties across the US did not have the government's minimum download speed for broadband internet, according to M-Lab.
Between February and mid March, when the pandemic was only just beginning to hit the US, there was a 10% increase in how many counties saw download speeds fall below the government standard, representing about one in 10 US counties, M-Lab found.
"Now that people's livelihoods, schools and lives, are literally on the line, we can't survive," Meinrath said. "These communities that are underserved are not going to be able to transition to an online workplace or school environment."