April 7, 2022
Student Receives Jennifer S. Cwynar Community Achievement Award
University Park, Pa. – Maira Nawaz, a student in the Integrated Undergraduate/Master of Health Administration program within the Penn State Department of Health Policy and Administration (HPA), received the 2022 Jennifer S. Cwynar Community Achievement Award in April 2022. Nawaz, of Mechanicsburg, Pennsylvania, is also pursuing a minor in information sciences and technology.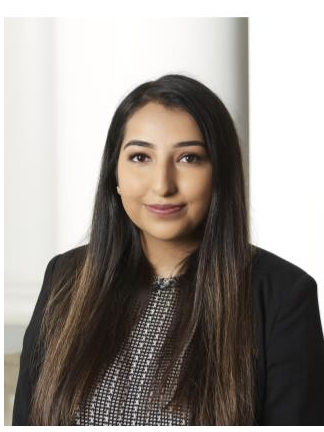 The award from the Pennsylvania Office of Rural Health (PORH) recognizes community achievement by a Penn State senior majoring in Health Policy and Administration who has demonstrated service and commitment to a community or an underserved population, preferably, but not exclusively, in a rural area of Pennsylvania. The award was established in memory of Jennifer S. Cwynar, a 2008 graduate of HPA and a 2008 undergraduate intern at PORH.
Nawaz was nominated by Diane Spokus, Ph.D., M.Ed., MCHES®, associate director of professional development in HPA. Spokus lauded Nawaz for her dedicated and detail-oriented work ethic, commitment to community service, and her focus on public health. She noted that Nawaz can be depended on to follow through and continually seeks professional development opportunities and service to others. "Students like Maira, who participate in various internship experiences, and who are involved in clubs and volunteer their time to worthwhile causes, are excellent role models. They will be great future health care leaders."
During her academic career, Nawaz expanded her knowledge through internships at Mount Nittany Physician Group Primary Care practices in rural central Pennsylvania; Atlantic Health System in New Jersey; the American Lung Association; and WellSpan Health in York, Pennsylvania. Nawaz broadened her operational and administrative skills by standardizing the rooming process for patients, calculating Medicare net revenue, streamlined guidelines, analyzing and evaluating insurance enrollment data, assisting in improving interactive voice response systems and member websites, and creating user stories for members to improve customer satisfaction during support calls. She also executed smoking cessation
tasks such as Amazon's Alexa project, a Juul costs project, and smoking prevalence in veterans; organized health promotion community events; wrote articles for local newspapers on moral courage; and worked with the LatinX community to improve health care opportunities and awareness. These experiences gave her a deep appreciation for the social determinants of health and population health.
While at Penn State, Nawaz served as the guest speaker liaison for the Penn State Chapter of the American College of Healthcare Administrators (ACHCA) Club Executive Team. She participated in the UNICEF Club, was a member of the Pakistani Student Association, and volunteered at the Central PA Food Bank, Country Meadows Senior Center, and was a Holy Spirit Hospital Junior Volunteer.
"We are very pleased to present this award to Maira Nawaz and to honor the legacy of Jennifer Cwynar, who was an exceptional student and intern with our office," said Lisa Davis, director of PORH and outreach associate professor of HPA. "This is one way in which we can encourage excellence in those who will become leaders in advocating for the health of vulnerable populations."
PORH was formed in 1991 as a joint partnership between the federal government, the Commonwealth of Pennsylvania, and Penn State. The office is one of 50 state offices of rural health in the nation and is charged with being a source of coordination, technical assistance, networking, and partnership development.
PORH provides expertise in the areas of rural health, population health, quality improvement, oral health, and agricultural health and safety. PORH is administratively located in the Department of Health Policy and Administration in the College of Health and Human Development at Penn State University Park.
To learn more about the Jennifer S. Cwynar Community Achievement Award or the Pennsylvania Office of Rural Health, visit porh.psu.edu.
###
Editors: For additional information, please contact Karen Burke, Outreach Coordinator, Pennsylvania Office of Rural Health, at 814-865-3647 or klb520@psu.edu.