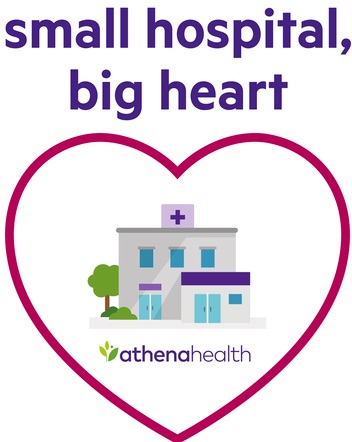 What does your community hospital mean to you? Share your story to win up to $15,000.
We want to invite your hospital to join athenahealth's My Hospital, My Community Contest. The goal is to capture and share personal stories from community hospitals across the country to help showcase the invaluable work you do and draw national attention to the importance of rural healthcare.
Every time someone from your community answers the question "what does your community hospital mean to you" your hospital will be entered to win 1 of 5 cash prizes. The grand prize-winning hospital will receive $15,000, and second- through fifth-place winners will receive $7,000, $5,000, $2,000, or $1,000 respectively plus free marketing and PR support.
Join the M
y Hospital, My Community 
Facebook group today by visiting
https://bitly.com/mhmc2018
. Share your own story, then encourage your providers, staff, and patients to enter by October 19. Remember the more submissions in support of your hospital, the better.