University Park, Pa. – The Federal Office of Rural Health Policy (FORHP). has recognized 10 states for outstanding quality performance of their Critical Access Hospitals (CAHs) in achieving the highest reporting rates and levels of improvement across the nation over the past year. The recognition was given on July 18, 2018 at a national meeting in Bethesda, Maryland, convened by FORHP. The CAH program is administered by State Offices of Rural Health; the Pennsylvania Office of Rural Health (PORH) leads the program in the state. Pennsylvania has 15 CAHs which serve the most rural communities in the state.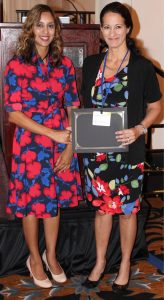 FORHP recognized the top 11 ranked states for this achievement, including Pennsylvania, Maine, Michigan, Wisconsin, Indiana and Nebraska (tied), Illinois, Utah, Tennessee, Alabama, and West Virginia. PORH, like other State Offices of Rural Health, has continued to invest FORHP funds in quality improvement projects and developed technical assistance resources that improve high-quality care in their communities. State Offices also worked collaboratively with every CAH and their respective partners to share best practices and utilize data to drive quality improvement in their hospitals.
Lannette Johnston (right), quality improvement coordinator at the Pennsylvania Office of Rural Health, accepts the State Quality Improvement Award.
In addition to this recognition, the CAH program in Pennsylvania achieved the third quality ranking in the nation, and joined the states of Maine and Michigan for this honor. In 2017, Pennsylvania was number five in the nation.
In 2011, FORHP, created the Medicare Beneficiary Quality Improvement Project (MBQIP) to promote high quality of care at rural hospitals with 25 beds or fewer. Low-volume hospitals participating in the project voluntarily report on a set of quality measures relevant to the care they provide, share data, and take on quality improvement initiatives. Currently, 98 percent of the 1,346 CAHs in the United States are reporting rural-relevant quality measures.
Pennsylvania was one of the very first state to achieve 100 percent reporting by CAHs to MBQIP and is one of the few programs in the nation to have a staff member dedicated to quality improvement.
"The Pennsylvania Critical Access Hospitals and their quality improvement staff are to be commended for their dedication to providing outstanding health care in their rural communities," said Larry Baronner, PORH's rural healthsystems manager and deputy director. "Receiving this recognition once again demonstrates a continued commitment to quality improvement."
Lannette Johnston, quality improvement coordinator at PORH, added, "It is truly an honor to work with a talented group of clinicians and leaders at the Critical Access Hospitals in Pennsylvania. They ensure that patients receive the best quality care. Receiving this award is just one of the many ways in which these leaders enhance high quality rural health."
PORH formed in 1991 as a joint partnership between the federal government, the Commonwealth of Pennsylvania, and Penn State. The office is one of 50 state offices of rural health in the nation funded under a program administered by the Federal Office of Rural Health Policy in the U.S. Department of Health and Human Services and is charged with being a source of coordination, technical assistance, and networking; and partnership development.
PORH provides expertise in the areas of rural health, agricultural health and safety, and community and economic development. PORH is administratively housed in the Department of Health Policy and Administration in the College of Health and Human Development at Penn State University Park.