Did you know that 41% of kids in Pennsylvania receive their health care coverage through Medicaid and CHIP?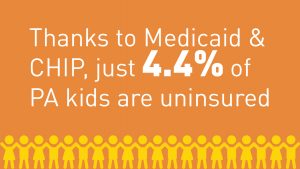 Medicaid and CHIP have helped shrink the gap of uninsured kids to historic lows. In Pennsylvania, Medicaid covers more than 1.2 million children and CHIP serves more than 181,000 kids.
Research shows that access to Medicaid in childhood leads to longer, healthier lives and improvements in educational outcomes. Healthy kids equals a stronger Pennsylvania.
Check out our new video series Medicaid Matters to view short video messages from leaders across sectors such as health care, child welfare, early learning and education on why Medicaid and CHIP matter to them. Our first video is from Bob Cicco, retired neonatologist, former PPC board chair and current board member, and former president of the Pennsylvania Chapter of American Academy of Pediatrics. Look for future posts from other leaders on why Medicaid matters to them.
Also, read our fact sheet to learn more about why Medicaid and CHIP matter for Pennsylvanias kids.