The National Organization of State Offices of Rural Health (NOSORH) is pleased to announce that it will collaborate again with Walk with a Doc for National Rural Health Day 2018!
How do you transform a single day event into a positive movement; and, put the health of our nation's rural communities on a better path? All it takes is a few simple steps!
NOSORH is encouraging SORHs to share information with rural primary care providers, hospitals, and health clinics in their states on how to start an official Power of Rural Walk with a Doc Chapter, and to host a special walk on National Rural Health Day, November 15, 2018!
Walk with a Doc was founded in 2005 by Dr. David Sabgir, a cardi­ologist from Columbus, Ohio, frustrated with his inability to affect behavior change in the clinical setting, so he invited his patients to go for a walk with him in a local park. To his surprise, over 100 people showed up, energized and ready to move. Soon, Dr. Sabgir's great idea spread, and today, there are currently 375 chapters across the United States, plus chapters in 20 countries, hosting weekly, biweekly, or monthly walks.
As rural health providers work to find new ways to improve population health and patient outcomes, Walk with a Doc is an excellent example of the strides health care providers are making to move their communities in a healthier direction.
Will you take the challenge and invite the hospitals and clinics in your state to Walk with a Doc?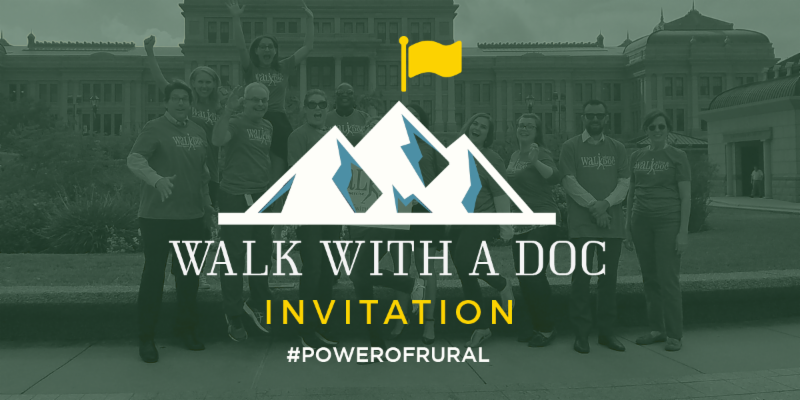 FAQ
Details matter! Learn what it takes and the benefits of becoming an official Walk with a Doc chapter, the tools, and support available.
Watch Dr. David Sabgir's video
Why Walk?
Walking is proven to improve overall health. Walk with a Doc has at least 100 reasons to start and participate in a walk!
Help us transform a single day into a positive movement. Celebrate the Power of Rural on National Rural Health Day by hosting a Walk with a Doc and encourage others to do the same!