MCCONNELLSBURG, PA. July 30, 2018 — (LOCAL MEDIA) – Fulton County Medical Center recently received national recognition for demonstrating innovation in the integration of behavioral or mental health initiatives. FCMC is committed to keeping pace with health care transformation, which is key to sustaining access to health services for the community. The National Rural Health Resource Center recognized this hospital for innovation and collaboration in the integration of behavioral or mental health into primary care.
The Critical Access Hospital Recognition certificate was established by The Center and the Federal Office of Rural Health Policy (FORHP) to recognize the excellent work in critical access hospitals (CAHs) and other rural safety net providers throughout the country. The recognition promotes excellence and innovation and honors the achievements and results of rural safety net providers while publicizing successful strategies.
During this round of nominations, four CAHs were chosen for recognition. "The variety of behavioral and mental health initiatives by CAHs is impressive," stated Sally Buck, Chief Executive Officer at The Center. "It reflects the innovation required to address unique needs through expanding services with telemedicine, inpatient elderly behavioral health care, outpatient services for Veterans and their families as well as develop a community and CAH response to chronic pain management and providing addiction services. Behavioral and mental health innovations benefit the patient and the overall community and enhance CAH performance outcomes." Lannette Johnston MS, BSN, RN, CHC from PA Office of Rural Health said, "On behalf of the Pennsylvania Office of Rural Health, we are extremely proud of the Fulton County Medical Center. We were delighted to learn their diligent work on developing a program integrating behavioral health into primary care has been recognized. The Fulton County Medical Center is committed to producing innovative programs that maximize optimal patient outcomes."
Health care delivered in rural communities is affordable, high quality and necessary to the good health of the entire community. Mike Makosky, hospital CEO said, "Taking care of our patients in the best possible venue with the best quality providers is what we strive to do every day. It is particularly difficult in a rural setting but can be accomplished with a committed group of people. The people at FCMC work hard every day toward fulfilling our mission "To continuously improve the health of our community." This award is verification that we are doing great things at FCMC." Becky Greenawalt, Quality/Risk/Patient Safety Director from Fulton County Medical Center said, "In order to effectively care for our friends and family in the community, we needed to address how we provide treatment for the whole person; this includes any behavioral health needs for the individual. Developing a program to reduce the stigma of mental health, a process for getting the individual to the appropriate place for care and addressing the safety of the individual and the staff was important piece for improving our quality of care. In a rural community, it takes the effort of multiple agencies to support the process and be engaged with the vision. I thank all of those agencies and individuals that have supported and provided insight to this program."
About the Fulton County Medical Center
FCMC is a Pennsylvania non-profit corporation, which owns and operates a 21-bed critical access hospital and 67-bed skilled nursing care facility. Founded in 1949, FCMC is located at 214 Peach Orchard, McConnellsburg, Pennsylvania. FCMC has an active medical staff of nearly 100 physicians, 500 employees and sixty active volunteers. For more information visit FCMC online at www.fcmcpa.org.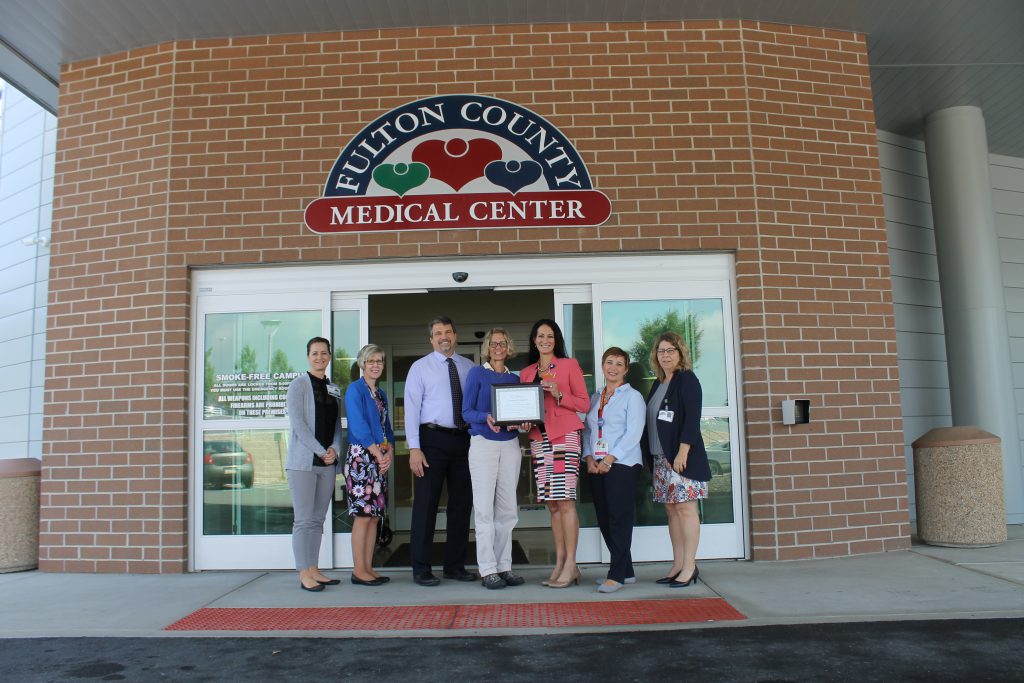 Left to Right: Nichole Earley, FCMC SCM trainer, Kim Slee, COO, Mike Makosky, CEO, Elizabeth Gotwals, Fulton Behavioral Health, Lannette Johnston MS, BSN, RN, CHC, PA Office of Rural Health, Becky Greenawalt, SCM trainer, Deborah Shughart, CFO
CONTACT: Fulton County Medical Center
Media: A. Misty Hershey, 717-485-6115
Director of Community Relations & Benefits
mhershey@fcmcpa.org
SOURCE: Fulton County Medical Center