By Anne Hazlett, Assistant to the Secretary for Rural Development, U.S. Department of Agriculture
In the hills of eastern Kentucky, Keith Gabbard is more than the general manager of a telephone company. Keith is a first responder to a growing and monumental challenge in rural America– mental health. In 2017, Keith's company, the Peoples Rural Telephone Cooperative, provided a high speed internet connection to deliver telehealth services to veterans in McKee, Kentucky, his hometown. Through this lifesaving resource, Peoples is creating rural prosperity in its community by creating access to modern health care services.
Today, there are many people living and working in rural communities who need help and hope in overcoming a specific mountain– the disease of opioid addiction. In 2016, nearly 64,000 Americans died from a drug overdose and a significant number of these deaths involved the misuse of opioids, a highly effective class of painkillers. At 174 people each day, this is more than the number of lives lost in car accidents or gun-related homicides. And, while no corner of the United States has gone untouched by this crisis, rural America has been hit particularly hard as the number of deaths and families touched by this epidemic tragically continues to rise.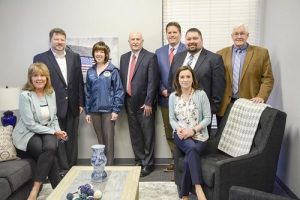 Last fall, a survey conducted by two leading farm and rural organizations, the American Farm Bureau and National Farmers Union, showed that nearly 50 percent of rural adults– and 74 percent of farmers– have been directly impacted by the opioid crisis. In May, a similar study conducted by the Pew Research Center found that 9 in 10 rural Americans believe drugs are a problem in their community. With these numbers, addiction and the need for mental and behavioral health services is no longer an issue found only in the inner city.
The roots of the opioid epidemic are multi-faceted and complex. In rural places like McKee and similar towns in my home state of Indiana, this crisis often stems from deep and challenging issues such as generational poverty, overprescribing of medication, and lack of economic opportunity. These contributing factors are then compounded in rural communities where there is a heavy dependence on physical labor, lack of access to quality medical care, and a sense of isolation.
As Keith and other NTCA leaders step forward to make a difference in their own community, a critical tool in fighting this epidemic is what NTCA members have already blazed a path in doing: increased access to high-speed internet. For years, you have been providing access to this critical technology– even in places like the hills and hollers of eastern Kentucky where no one else will go. However, there is still much work to be done.
According to the Federal Communications Commission, rural areas continue to lag behind urban areas in broadband deployment. In fact, the FCC in March reported that, of the 24 million American households that do not have access to reliable, affordable high-speed internet, 80 percent are in rural communities. Similarly, of the schools that lack access to high-speed internet service, 75 percent are in rural areas.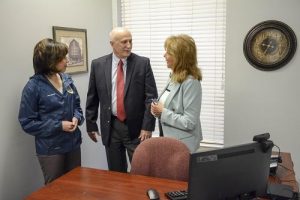 This unacceptable divide means rural leaders face even greater challenges when they look to find ways to address opioid misuse and other mental health challenges in their communities. This gap prevents our next generation of children living in rural America from getting the same quality education as their urban peers. Modern tools of distance learning for adults seeking to advance their own skills are unavailable, pushing economic opportunity further out of reach. And, the shortage of broadband, or e-connectivity, also keeps farms and other rural businesses from participating in the global marketplace.
As we expand and then sustain access to broadband in rural America, more rural communities can access telemedicine for treatment and recovery. Today, there are less than 40 physicians per 100,000 people in rural areas. Fewer physicians often translates to reduced availability and accessibility, and thus people are less likely to get medical care. But as Peoples has demonstrated in eastern Kentucky, telemedicine is a viable tool to connect rural Americans struggling with opioid addiction and other mental health challenges with services to get healthy in their own community.
Beyond access to health care, broadband is critical to building prosperity in rural places– prosperity that is key to making rural communities more resilient to addiction in the first place. Through broadband e-connectivity, we can link rural American farms, homes, schools, and health care facilities to each other and to the rest of the world. Broadband e-connectivity will enable farms, factories, and rural businesses to be more productive and provide access to more customers domestically and around the world. Lastly, this infrastructure will expand access to education and health care resources, improving quality of life and catalyzing prosperity in rural communities and throughout America.
Since joining the Department of Agriculture last year, I have had a chance to see the transformative power of broadband e-connectivity firsthand in rural places across our country– from Islesford, Maine to McKee, Kentucky.
I have seen what NTCA members and other rural telecommunication providers have accomplished together both on the ground and as grassroots leaders who are a powerful voice for infrastructure in small town USA. Just last month, I visited the town of Cranberry Isles, a small island community off the coast of Maine. There, Axiom Technologies has recently built a broadband network through a USDA Community Connect grant that will give island residents the same quality internet service as families living in New York City. In my visit to celebrate this success with local community leaders, I met chief executive officer of Unitel Larry Sterrs who explained that this network actually includes a cable that runs deep along the sea floor– a detail that took my understanding and appreciation for the challenges in connecting rural America to a whole new level. With this innovation, e-connectivity has opened up a new world for those already living on the island while also creating possibility for new residents with people who would like to work remotely or learn online from this scenic but isolated community.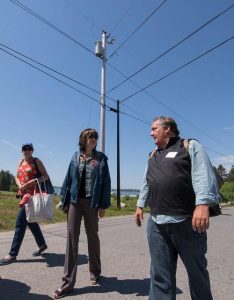 Rural America needs the perseverance and sheer commitment to rural prosperity that we see in leaders like Larry and Keith in order to bridge this connectivity gap which is a critical tool in battling the opioid epidemic in rural places. From the islands of Maine to the hills of eastern Kentucky, broadband is truly a foundation for healthy communities, from quality of life to a healthy workforce, innovation and economic development. This is why President Trump and Congress are out in front, providing new investment options for much-needed rural infrastructure, especially broadband expansion.
Our leader Secretary of Agriculture Sonny Perdue has made rural broadband expansion a key priority as we deploy $600 million of additional funds to buildout broadband infrastructure in unserved rural communities. As we design the rules and requirements of this exciting pilot program, we hope you will help us make this pilot the most effective program possible. On July 27, we opened a public comment period to gather input from real world experts like each of you about how to maximize this opportunity:
With solid infrastructure enabling modern e-connectivity, rural leaders can connect to new opportunity which then brings hope and resilience for the future against the scourge of drug addiction. In that, I find great promise and look forward to building on the shared passion and long history of partnership between USDA and NTCA members. Together, we can create a strong and healthy rural America now and for generations to come.